Wie man schon nach dem letztem Blogeintrag von Valve vermutet hat, ist nun Kunkka neu bei den DotA 2-Helden. Aber für eine kleine Überraschung sorgte hier der Bloodseeker, der als zweiter Held bei diesem Patch hinzukam. Weitere wichtige Veränderungen fasst readmore.de für Euch zusammen.
Mit Zuwachs von Kunkka und Bloodseeker sind nun 49 Dota 2-Helden am Start. Bloodseeker selbst war einer der ersten vier Helden, die Valve vor einem Jahr überhaupt präsentierte und dieser wurde nun für die Beta-Phase freigeschaltet. Beide Melee Helden verfolgen zwei unterschiedliche Spielphilosophien und wie man sie spielen sollte, wird am Ende der News erklärt.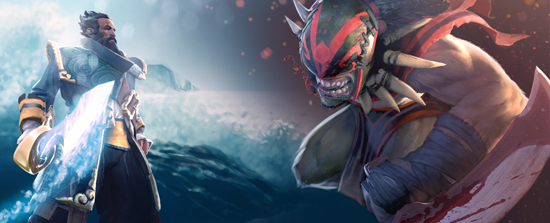 Neben diesen zwei Helden sind die dazugeschalteten Bots das größte Highlight dieses Patches. Diese kann man während des Practice Modes antesten, sind aber so noch nicht für das Matchmaking bereit, um mögliche Leaver zu ersetzen. Die Bots selber kommunizieren mit dem Spieler über den Chat und kündigen unter anderem mögliche Ganks sowie Pushversuche an. Zudem soll es bald möglich sein den Helden über die Konsole eigene Befehle zu geben, da man meist das Spiel selbst besser einschätzen kann. Ein riesiger Pluspunkt mit den Bots ist, dass man mit ihnen als Neuling das Spiel antesten sowie sich mit dem Spiel anfreunden kann. Dadurch wird man besseren Spielern nicht direkt zum Fraß vorgeworfen und VALVe will auch Bots mit verschiedenen Schwierigkeitsstufen zur Verfügung stellen.
Daneben gab es noch weitere wichtige Veränderungen. Vengeful Spirit bekam ein komplett neues Modell und die aus den Warcraft 3 bekannten Spieler-Farben wurden auch teilweise verändert, um bei der neuen Spielgrafik besser hervorzustechen. Des Weiteren können Spieler nun Mitspieler per Klick stumm stellen oder ihren Chat ausblenden, falls diese Funktionen missbraucht werden.
https://www.youtube.com/embed/Nm5pn4N4i3s
https://www.youtube.com/embed/wNnjHMbVD9A
Komplette Patch Notes:

Gameplay
Enabled Kunkka and Bloodseeker.
Enabled Bot Support
Fixed some creep aggro behaviors
Fixed Juggernaut's Omnislash not ministunning the initial target.
Fixed Juggernaut's Healing Ward not having an AoE cursor.
Fixed Critical Strikes (both Juggernaut's and item-based) not denying correctly.
Fixed Ion Shell being dispelled during Bladefury.
Fixed Razor's Static Link working on Juggernaut while he is omnislashing.
Fixed Doom gaining a ranged attack by orb walking after eating a ghost creep.
Fixed Dazzle's Shadow Wave, it now properly deals physical damage, anddamages magic immune units.
Fixed Ancients not regenerating.
Fixed Lich's Dark Ritual being usable on couriers.
Fixed players instantly losing vision of dying units.
Fixed the radius of vision players get from attacking units.
Fixed units being knocked back into trees potentially getting stuck.
Fixed Ring of Basilius, it no longer automatically resets its toggle state on death.
Fixed Illusions doing significantly reduced damage to buildings.
Fixed a bug that prevented selection hitboxes from scaling along with the unit.
Fixed a bug where creeps would over-commit to defending an allied hero being attacked.
Adjusted juke areas around Dire Side Shop.
User Interface
Added support for muting voice & text chat of other players via the scoreboard.
Fixed a bug with item combining when the courier brings items to a hero in fountain range.
Changed how upgradable items are displayed in the shop: now all upgrade levels are shown in the combine tree.
Upgradeable items, such as Necronomicon, now show the upgrade level in their shop tooltips.
Added Legacy key support for Juggernaut.
Fixed a bug where players who bought items while dead in range of the side or secret shop would have their items drop on the ground.
Changed secret shop item color to teal.
Updated player slot colors.
The player's own minimap icon now shows their player color.
Fixed a bug that prevented camera movement while spectating a game directly (not via DOTA TV).
Fixed several issues with Fog of War while spectating.
Visuals
Illusions in the portrait and multi-unit selection UI now show the illusion status effect.
Vengeful Spirit's Magic Missile is more obviously a projectile now.
Beastmaster's Wild Axes now flow along the ground, and are more prominent overall.
Completed a rough pass over the Dire Secret Shop.
Added a new custom effect for Lich's Frost Armor.
Lich's Chain Frost is now more visible.
Vengeful Spirit now has a new model and weapon.
Added bloody footprints to Axe's Cull effect.
Fixed a bug that caused portraits to sometimes have missing (or extra) body parts on Heroes.
Audio
Added more voice content to several heroes.
Added Dire Defeat music piece.
Medien