Diese Woche betritt der Warlock als einziger neuer Held die Dota 2-Spielarena, stattdessen wurden aber viele Komfortfunktionen hinzugefügt. Wichtig ist hierbei eine Regulierung, die Flamer automatisch stummschaltet. readmore.de fasst weitere Veränderungen des neuen Patches für Euch zusammen.
Der neue Held Warlock ist einer der stärksten 'Clash'-Helden. Drei seiner Fähigkeiten basieren darauf, im Kampfgetümmel so viel Schaden wie möglich auszurichten. 'Fatal Bonds' hat eine ähnliche Funktionsweise wie der aus Warcraft 3 bekannte Zauber 'Spirit Link'. Alle sechs von der Fähigkeit betroffenen gegnerischen Einheiten teilen ihren Schaden untereinander.
Hinzukommt ein Spell, die Gegner in einem bestimmtem Gebiet sehr stark über einen bestimmte Zeit verlangsamt und außerdem noch das Ultimate, welches einen Feuer-Golem mit Flächenschaden beschwört. Alle drei Zauber zusammen ausgespielt können einen kompletten Teamfight gewinnen.
Interessant ist hierbei, dass man mit dem Item Aghanims sein Ultimate verstärkt und zwei Golems beschwören kann. Zudem besteht die Möglichkeit noch das Item Refresher Orb zu kaufen, welches, wie der Name schon teilweise andeutet, den Cooldown von Zaubern "refreshed" beziehungsweise auf null setzt. So kann man gleich mit vier Golems den Gegnern das Leben sehr schwierig machen. Als Konter muss man dann das Item Diffusal Blade kaufen, welches mit einem Klick einen Feuer-Golem direkt zerstören kann. Zum Warlock gibt es im Verlauf der Meldung ein Video.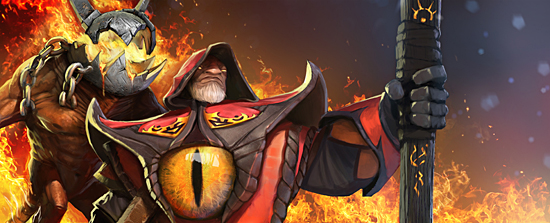 Warlock
Neben dem neuem Helden und entsprechenden Bugfixes gab es sehr viele Komfortveränderungen. In erster Linie wurden die Server-Bereiche stärker eingeteilt. Man kann nun einmal zwischen US-East und US-West unterscheiden sowie zwischen China und Southeast-Asia. Besonders die US-Teilung ist praktisch für Europäer, da man zu US-East einen spielbaren Ping hat. Dadurch hat man die Gelegenheit, gegen ein größeres Teilnehmerfeld zu spielen.
Schon länger ist es möglich, alle gespielten Matchmaking-Spiele live zu beobachten, nur waren diese bislang unsortiert. VALVe hat die Games nun nach dem Spiellevel sortiert, wodurch Partien mit guten Spielern ganz vorne sichtbar sind. Man kann damit sehr schnell interessante und hochwertige Spiele finden.
Zudem gibt es wahlweise eine neue Funktion für Spells. Man kann nun durch einen Doppelklick bei bestimmten Fähigkeiten diese automatisch auf sich selbst zaubern. Normalerweise müsste man den Zauber auswählen und dann auf der entsprechenden befreundeten Einheit bzw. bei sich selbst anwenden. Die Anwendung auf den eigenen Spielecharakter ist nun, durch diese neue Funktion, vereinfacht worden.
Zu guter Letzt kam eine für das Spielgeschehen wichtige Veränderung hinzu. In der vergangenen Woche hat man ein System eingeführt, in dem man sich schlecht benehmende Spieler bestrafen kann. Nun werden diese, falls sie zu viel geflamed haben, einfach stumm geschaltet. Bei entsprechend vielen positiven Bewertungen bei anderen Bereichen wird man nach einer bestimmen Zeitspanne wieder frei sprechen dürfen.
https://www.youtube.com/embed/uwBUzot1w0M
Kompletter Changelog:
General:
Added system that temporarily removes chat functionality from hostile players.
Heroes
Added Warlock.
Antimage: Fixed Manabreak working through Doom.
Beastmaster: Fixed him doing 10 less base damage than he's supposed to.
Dragon Knight: Fixed Corrosive Breath being lethal.
Dragon Knight: Fixed Breathe Fire not working on Siege units.
Jakiro: Fixed Liquid Fire not working on Siege units.
Jakiro: Fixed Dual Breath fire interval being a little too slow.
Omniknight: Fixed Purge/Repel not removing Hex.
Omniknight: Fixed being unable to cast Purification on mechanical units
Shadow Shaman: Fixed Voodoo not being blocked by Linken's Sphere.
Slardar: Fixed Slithereen Crush not showing an AoE indicator.
Gameplay
Enabled Omniknight and Dragon Knight in Captain's Mode.
Fixed Heart of Tarrasque regen stacking issues.
Fixes courier not responding to further deliver orders until he was issued a move order.
Fixed a case where items would not combine if the owning player was disconnected.
Fixed an item combine bug when giving an item to another hero who has a full inventory.
Fixed Diffusal Blade's manabreak working through Doom.
Fixed Satyr Trickster's Purge not canceling Repel.
Fixed being unable to target Siege units with Medallion of Courage.
Fixed Urn and Bloodstone resetting at 30 charges.
Increased the time window allowed between double clicking abilities and items.
Fixed camera position resetting to the middle of the map after receiving a full update.
User Interface
You can now choose Southeast Asia and US East/West in the matchmaking region settings on the Today page.
Matches in the Today and Watch pages are now sorted by the average rank of players in the game.
Added Network Quality setting to the Options menu.
In spectator hero chase mode, clicking on the top bar clears the temporary unit query as well as following the new unit.
Added a cooldown sound for clicking the Glyph while it is on cooldown.
Fixed commands bound to apostrophe not being properly captured by the UI.
Fixes buying items in your Quick Buy slot when typing in chat.
Added checkbox for practice lobbies to make them watchable via the Watch tab.
Fixed courier's transfer items buff not destroying itself when another order was given to him. Fixes courier not responding to further deliver orders until he was issued a move order.
Visuals
Cleaned up some Dragon Knight effects.
Updated Dragon Knight's run and idle animations.
Fixed Windrunner's bowstring disappearing when she died.
Fixed some visual bugs related to building destruction.
Fixed gestures not being properly deleted in some occasions. Fixes Beastmaster never leaving his flail animations (and thus strutting down the middle lane like a boss).
Fixed lipsync on portraits not lasting the full duration of the lines being spoken.
Audio
Added Tower/Barrack destruction music.
Fixed Heroes never commenting on first blood events.
Bots
Fixed bots trying to attack Razor's Plasma Field.
Bots will now consider siege units to be creeps for purposes of laning and farming.
Bots now pay better attention to incoming gank damage, so they should be quicker about retreating.
Fixed bug in Earthshaker bot where he was underestimating the stun duration of Fissure.
Fixed bug that was causing bots to not consider tower avoidance when attacking.
Bots should now back off to more reasonable positions when pushing a tower and waiting for their creeps.
Bots will no longer be scared of themselves when pushing a tower (!)
Fixed a bug where bots would either never purchase from the side/secret shops or would sometimes get stuck trying to purchase from them when they had no room.
Fixed bots trying to attack invulnerable units.
Implemented avoidance for Batrider's Firefly.
Fixed a few cases where Bane would try to cast an ability on an invalid target.
Bots now wait for teammates to be relatively nearby before moving closer to a tower they're defending.
Tiny bot will no longer wait to get into toss range before using any abilities on a retreating unit.
Bots will no longer roam when they have a hero or creep actively attacking them.
Fixed case where heroes with long attack ranges could get stuck trying to farm a lane but not being in range of any creeps.
Links