Jüngst betrat der Alchemist, als Helden-Duo, die Kampfarena in Dota 2. Dazu gab es beim neusten Patch sehr viele Bugfixes, aber nur wenige Veränderungen am Spiel selbst. readmore.de mit einer Zusammenfassung.
60 Helden zählt das Dota 2-Aufgebot mit dem neusten Patch und dazu gehört nun auch wohl der kleinste Held des DotA-Universums, der Alchemist. Dieser kann sehr starke Alchemie benutzen, kämpft aber nicht direkt mit seinen Gegnern. Dies überlässt er seinem treuem Ross, dem Oger. Dieser steckt nämlich alle Angriffe ein und der Alchemist verstärkt ihn mit seinen Zaubertränken.
Diese haben zudem verschiedene Funktionen. Zu einem kann er eine Giftwolke erscheinen lassen, die auf einer riesigen Fläche Schaden zufügt und die Rüstung verringert. Das ermöglicht dem Helden eine recht starke Lane-Dominanz aufzubauen. Ebenfalls kann er einen explosiven Trank einsetzen, der den Gegner kurz betäuben kann. Interessant an diesem Gebräu ist, dass es stärker wird, wenn man länger damit wartet, dieses auf seine Gegner zu werfen. Es erhöhen sich dabei der Schaden und die Betäubungsdauer. Wenn man aber zu lange wartet, wird man selbst getroffen und man erhält den entsprechenden Schaden.
Doch dank seiner Ultimate fällt dieser meist sehr gering aus. Dank eines weiteren Trankes wird der Oger viel stärker sowie schneller gemacht und bekommt eine sehr hohe Lebens- sowie Manaregeneration. Damit kann er länger in einem Kampf verweilen und kräftig austeilen. Seine letzte Fähigkeit hilft ihm dabei; passiv. Jedes Mal, wenn das treue Reitgefährt eine Einheit tötet, bekommt er bis zu 18 Gold extra hinzu. Somit kann sich das Duo noch mehr Items kaufen, die ihnen Rüstung sowie Leben schenken. Zum Helden gibt es im weiterem Verlauf der Meldung ein Video.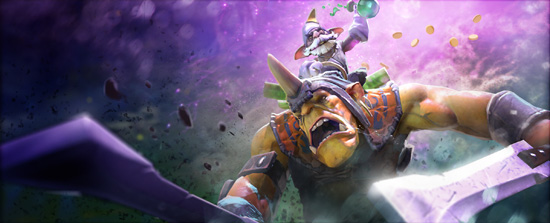 Der Alchemist auf seinem Oger
Neben dem Alchemist hat man bei diesem Patch die Priorität auf Bugfixes gelegt. Sehr viele Fehler wurden behoben und recht wenige Neuerungen kamen hinzu. Eine der wenigen ist die Möglichkeit, dass Practice Matches via Dota TV übertragen werden können. Dies wurde zur Zeit immer automatisch für Zuschauer ausgestellt , man muss es jetzt aber immer manuell deaktivieren, wenn man nicht will, dass jemand einem beim Spielen zuschaut. Das ist in dieser Hinsicht interessant, dass schon sehr viele Fun Wars mit Profis gespielt werden. Es ergibt sich nun die Möglichkeit, diese auch live verfolgen zu können.
Zu guter Letzt werden immer mehr Beta Keys verteilt und die Anzahl dürfte schon bei über 18.000 Spielern liegen. Zudem kann man auf der Statistikseite schon sehen, dass Dota 2 täglich unter den 20 meistgespielten Spielen ist und wird in der nächsten Zeit wohl auch noch einige Ränge gutmachen.
https://www.youtube.com/embed/vsXekvLGIEk
Kompletter Changelog

Heroes
Added Alchemist!
Ancient Apparition:
Fixed the location from which Ice Blast fires.
Fixed Level 3 Cold Feet doing 1 too much damage.
Bloodseeker:
Fixed Rupture damaging invulnerable/cycloned units.
Dragon Knight:
Fixed Elder Dragon Form attack properties getting lost when he is purged/repelled.
Huskar:
Fixed Burning Spears working against wards.
Fixed Inner Vitality being cast-able on yourself when Magic Immune.
Jakiro:
Fixed Liquid Fire not working correctly against siege units.
Kunkka:
Fixed Tidebringer working against wards.
Necrolyte:
Fixed Heartstopper Aura being blocked by magic immunity.
Nature's Prophet:
Fixed the spawn location of the Treants in Nature's Call.
Omniknight:
Fixed the following ability interactions with Repel/Purge: Inner Vitality, Weave, Moonlight Shadow, Overload, Holy Persuasion, Warcry, Shadow Word, Focus Fire, Sukuchi, Berserker's Call, Chilling Touch.
Pudge:
Fixed Dismember lasting too long on Roshan.
Fixed Meat Hook interrupting allied channel abilities.
Riki:
Fixed Backstab on wards
Sand King:
Fixed Repel stopping Sandstorm.
Fixed a bug with Epicenter doing its Ultimate Scepter number of pulses regardless of level.
Shadow Shaman:
Fixed Ether Shock hitting invisible units.
Warlock:
Fixed Rain of Chaos AoE stun not lasting longer with Scepter.
Fixed Rain of Chaos not destroying trees
Fixed Rain of Chaos not doing any impact damage.
Fixed Fatal Bonds disabling Blink Dagger/Regen.
Fixed Fatal Bonds damage being reduced by resistance.
Fixed Golem's Immolation working against Ancients.
Weaver:
Fixed Swarm not latching onto magic immune enemies.
Fixed Swarm losing their attack ability ability once an enemy becomes magic immune.
Witch Doctor:
Fixed Paralyzing Casks stun lasting 5 seconds on Roshan.
Gameplay
Fixed Maelstrom/Mjolnir procing on denies/wards/sieges.
Fixed Helm of the Dominator life-stealing off ward type units
Fixed Ring of Basilius aura not working on siege units.
Fixed Janggo aura not working on siege units.
Fixed item critical strikes working against wards.
Fixed item selling exploit where heroes could transfer sharable items and sell them back within the sell-back time.
Cleaned up juke lanes in dire top lane.
User Interface
Fixed a bug with courier purchasing, where trying to complete an item would not take into account items held by the courier.
Fixed a quick-buy bug. With Mekansm displayed, buying a branch, then headdress would result in a branch missing from the list.
Added a setting to disable screen shaking.
Fixed double clicking Force Staff not working if you are Repelled.
Fixed Smoke of Deceit and Dust of Appearance purchase announcement not appearing when an ally buys them.
Fixed Omniknight and Dragon Knight legacy keys.
Enabled Warlock for Captain's Mode
Error messages will no longer appear if some unit in your multi-unit selection cannot perform the requested order.
Practice Lobbies now appear on dota tv (can be selected to private in game setup).
Fixed not being able to access the home shop after a respawn.
Creeps under the control of a player now draw using that player's color on the minimap.
Fixed towers that are denied in the FoW still drawing for the other team on the minimap.
Made overhead gold values not fade out as quickly when your controlled hero is high level.
Added a new function (defaulted to Space Bar) that moves the camera to the last pinged location (if you press it again afterwards it goes back to your hero).
Visuals
Added impact effect to Leshrac's Lightning Storm.
Added burned ground to Warlock's Rain of Chaos.
Tweaked Dire tree shapes.
Audio
Added more movement lines for Dazzle, Dark Seer, Dragon Knight, Furion, Huskar, Riki, Skeleton King, Slardar, Spectre, and Jakiro.
Updated Jariko's voice-overs.
Bots
Fixed bug where bots would stand under the tower in the lane they were pushing when it had backdoor protection activated. Now they should move back to their lane front.
Bots no longer assume that humans will fully help out when they're deciding whether to do Roshan.
Revised Windrunner's Shackle Shot and Windrun usage – they won't trigger as much when doing a casual retreat.
In late-game, bots are more likely to go to side shops to get what they need (especially TP scrolls).
Bots are no longer controllable by spectators.
Improved the logic for deciding when to give up on an attack target that they haven't touched in a while.
Fixed issue where bots would attack creeps rather than defend their tower from enemy heroes.
Reworked how bots push lanes, they should be less likely to tank towers and should be in appropriate positions more often now.
Fixed bug where heroes would leave their tower too easily when not fully recharged.
Bots will now use a bottled regen rune rather than retreating all the way back to base to heal.
Fixed bug in Zeus's Thundergod's Wrath usage that caused with him to killsteal with it too much.
Bots should be better about harassing heroes during the laning phase – melee heroes should no longer be able to last-hit with impunity.
Revised sniper bot skill build to be less push-oriented and more gank/dps oriented.
Reduced spamminess of bots announcing the defense of a lane.
Made bots better about retreating to retrieve their items.
Medien