Nachdem letzte Woche wegen Thanksgiving nur ein kleiner Patch für Dota veröffentlicht wurde, ist gestern ein entsprechend größer erschienen. Neben vielen interessanten Komfortfunktionen hat VALVe nun den Stärke-Helden N'aix ins Spiel geholt. readmore.de mit einer Zusammenfassung der Änderungen.
Fast drei Monate schon läuft die Beta von Dota 2 und von den anfangs 45 Helden sind nun 61 am Start. Der letzte Neuzugang ist der Lifestealer N'aix. Sein Name beruht auf seiner passiven Fähigkeit Feast. Prozentual von den Lebenspunkten seiner Gegner bekommt er bei jedem normalem Angriff Leben regeneriert. Zusätzlich fügt N'aix diese Bonusheilung, auch dem Gegner, als Schaden hinzu.
Um Feast weiter zu stärken, hat er zwei andere wichtige Zauber. Als Meleekämpfer ist es schwieriger an seine Gegner heranzukommen, da diese weglaufen können, wenn man ihn sieht. Sein Skill Open Wounds verlangsamt eine einzelne Einheit und lässt ihn noch mehr Leben bei erfolgreichen Angriffen stehlen. Doch das hindert die Feinde nicht daran, Zauber auf ihn abzufeuern. Hier kommt seine zweite Fähigkeit Rage ins Spiel. N'aix wird für paar Sekunden immun gegen Magie und lässt ihn an seine Gegner sicher herankommen.
Kombinieren kann man das Ganze noch mit seiner Ulti Infest. Mit dieser kann man sich einmal in einer normalen Einheit verstecken oder auch in einem befreundetem Helden. Springt man dann raus, verursacht man AoE Schaden. Eine normale Einheit wird dabei noch zerstört, die Lebenspunkte die sie kurz zuvor hatte, werden aber N'aix zur Heilung gutgeschrieben. Man kann so Überraschungsangriffe starten, sich aber auch in brenzligen Situationen schnell verstecken. Zum Helden gibt es im weiterem verlauf der Meldung ein Video.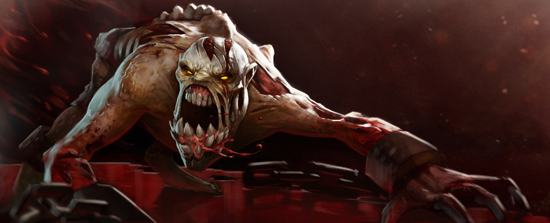 Naix, the Lifestealer
Neben dem neuem Helden und den Verbesserungen an den Bots, hat sich wieder viel am Spiel verändert. Die erste größere Erneuerung ist der Item-Aliases-Support bei der Shop-Suchfunktion. Diese erkannte schon die kompletten Langformen der Gegenstände, aber nun gehören auch die üblichen Itemkürzel dazu. Unter der Community haben sich nämlich Kürzungen zu allen möglichen Items und Helden Namen eingebürgert. Anstatt dem Stärke-Item Heart of Tarrasque sagt man nur noch HoT oder das Item zuständig für Magieimmunität, Black King Bar, wird kurz BKB genannt. Der Editor garantiert somit eine schnellere Suche.
Weiterhin hat VALVe mit dem neuem Update den Learn Block eingeführt. Es werden dort entsprechend zu den Helden die Fähigkeiten mit ihren Funktionen dargestellt. Außerdem kann man sich die Akteure, eingeteilt in verschiedene Gruppen wie Carry, Ganker, Supporter, Initiator und so weiter, anschauen. Besonders für Neueinsteiger ein interessantes Feature, da es mehr Überblick schafft.
Für fortgeschrittene Spieler gibt es zudem fortan noch ein Anzeigefenster, welches genauere Heldenstatistiken darstellt. Man sieht nun, wie oft man einen Helden gespielt hat und wie viele Siege und Niederlagen man mit ihnen hat. Vorteile bringt dies keine, wird aber vielleicht später mit den bekannten Steam-Achievements verbunden werden.
Zu guter Letzt hat VALVe auch viele Fehler im Spiel, aber auch am Programm selbst beseitigt. Einen interessanten Glitch zum Beispiel gab es beim Beastmaster. Dieser ermöglichte es seinen Äxten für unbestimmte Zeit in der Luft herumzuwirbeln, ohne dass man dagegen was anstellen konnte. Dies wurde aber mit diesem Patch behoben. Auch ein nerviger Fehler mit dem Programm wurde eliminiert.; man darf jetzt mit Alt und Tab zwischen verschiedenen aktiven Fenstern wechseln. Das Programm neigte nämlich dazu bei abzustürzen, sofern es nicht auf 'Borderless Window' eingestellt war.
Kompletter Changelog:

Heroes
Added Lifestealer!
Alchemist: Fixed Chemical Rage not changing his base mana regeneration.
Alchemist: Fixed Goblin's Greed working on buildings.
Alchemist: Fixed various delays on his spells.
Axe: Fixed Berserker's Call to properly force affected invisible enemies to attack.
Batrider: Fixed level 4 Sticky Napalm making turn rate faster rather than slower.
Badrider: Fixed Flamebreak being able to knock Roshan out of his area.
Beastmaster: Fixed base damage.
Beastmaster: Fixed Wild Axes potentially getting stuck in the world.
Bloodseeker: Fixed Thirst working on illusions.
Bloodseeker: Fixed a bug with Rupture against magic immune enemies.
Bloodseeker: Fixed Rupture hurting you while you are cycloned.
Chen: Fixed Holy Persuation allowing Wildkin's channeled Torando to go uninterrupted.
Dark Seer: Fixed being able to Surge magic immune allies.
Doom: Fixed neutral critical strike ability from affecting wards.
Jakiro: Fixed Liquid Fire working with Illusions.
Leshrac: Fixed Pulse Nova not toggling off when you run out of mana
Necrolyte: Fixed Heartstopper Aura damaging wards.
Puck: Fixed a bug with Phase Shift that could let you use it an infinite number of times.
Puck: Fixed endless Phase Shift during Chronosphere.
Pudge: Fixed Rot doing continuing to do damage after you die.
Warlock: Fixed Golem's Immolation not doing any damage.
Windrunner: Fixed Powershot killing Couriers.
Enabled Alchemist in Captain's Mode.
Gameplay
Fixed Manta Style images not carrying over Chemical Rage buff.
Fixed Repel/Purge stopping Battery Assault.
Fixed Repel/Purge removing Ghost Ship allied buff.
Fixed Repel/Purge removing various consumable buffs.
Fixed invisibility state on minimap toggling off if you walked near an enemy sentry ward (or other source of true sight).
Fixed Ethereal Blade and Ghost Scepter not sharing cooldown.
Fixed teleport scroll not dispelling item ethereal buffs.
Fixed evasion not being disabled properly under Doom/Chronosphere.
Fixed minimum damage check on Mjollnir's Static.
Illusions now copy the toggled state of inventory items on spawn (Armlet, Radiance, Basilius, etc.)
Fixed the following auras' interactions with Siege units: Necronomicon, Assault, Mekansm, Vladmir.
Fixed Mekansm not healing Siege units.
Fixed collision size on Nether Ward being too big.
Fixed Roshan bashing wards.
Interface
Fixed the -wtf cheat command not working.
Fixed spawncreeps to not spawn more creeps if there are already more than 75 creeps alive on the map.
Hooked up item aliases in shop search! You can enter 'bkb' for Black King Bar, 'gg' for branch, and much, much more.
Hero Picker: Added skill icons to the hero summary page.
Hero Picker: Moved lore to its own tab.
Added hero picker to the Learn tab.
Fixed bug where some long tooltips were getting truncated.
Item tooltips in the game end screen now show the item level.
Spectator items panel now shows item level.
Player names and colors are now filled in before the player selects a hero. Previously the row would be blank until a hero was chosen.
Fixed crash when clicking on an empty slot in the top bar.
Fixed a crash when clicking in the minimap area before the map has loaded.
Fixed hang on exit.
Removed the timer between clicks to self-cast abilities and items that are able to quick-cast.
Adjusted default hotkeys (please note that hotkeys will be influx for a while, so you may need to rebind them from time to time).
Fixed default camera settings to not glide/skate.
Party display now shows the number of pending invites.
Added page showing your win and loss counts with each hero.
The chat channel list is now sorted.
Increased number of users per regional chat channel.
Your Friends list shows when a friend is finding a match.
Fixed some legacy key issues.
Matchmaking
Players that have been waiting a long time get some priority when finding a match.
Players in the low priority pool try to match players that are closer to their actual rating.
Visuals
Fixed Sven's Storm Bolt coming from the wrong hand.
Fixed stunning knock back modifiers not having a stunned effect.
Fixed Windrunner not playing her Focus Fire run animation.
Dota 2 bots
Added new client-bot-debugging command: dota_bot_dump_state. With no parameter, it will dump the general state of all bots. With a (partial) name of a hero supplied, it will dump more detailed information about the state of that specific hero's bot.
Enabled a small action delay to better mimic human reaction time.
Bots will now save for and use Buyback.
Bots should no longer focus too much on wards, and will no longer try to use abilities on them.
Added a per-hero aggression factor, which hopefully will help keep poor Crystal
Maiden alive a bit more.
Improved Vengeful Spirit bot's Nether Swap usage – she should be better about swapping heroes that are getting away.
Fixed case where bots would use TP scrolls to port short distances when retreating.
Bots will no longer use a TP scroll or Travel Boots when nearby enemies have stuns available.
A number of bots will now harass with long-range stuns/abilities when defending a tower and waiting for allies to arrive.
When chasing an enemy that blinks away, bots will no longer have perfect knowledge of where they blinked.
Fixed case where bots were failing to path back into their fountain (specifically when trying to pull creeps into the fountain).
Bots will now try to kill enemy couriers.
Fixed bug where bots were not trying to avoid linear projectiles like Mirana's Arrow and Pudge's Hook.
Fixed case where a bot with a full inventory (and not willing to drop anything) would get deemed the best bot to pick up an item, causing no one to pick it up.
Bots now know if they have mini-stuns on their attacks, and are more likely to attack enemies who are channeling.
Bots will no longer buy dust/gem in response to an enemy having an invisibility rune.
Bots now take avoidance into account when destroying items the enemy team has dropped, so they should no longer dive for them.
Bots should now avoid standing in Sand King's Sandstorm.
Earthshaker bot should be better at fissuring fleeing enemies.
Fixed case where a bot could get stuck trying to purchase an item at the side shop that's also available at the secret shop.
Fixed bots standing in a healing aura when high health rather then retreating to retrieve their items.
Made carries better able to interrupt their farming to retrieve items from their stash or the secret shop.
Made bots better about doing Roshan if a human pings him.
Medien