Freitag um 1:00 Uhr morgens wurde der nächste Held ins Dota 2-Universum geholt, der Invoker. Er gilt als einer der schwierigsten DotA-Akteure überhaupt und verlangt vom Spieler sehr viel Geschick und Können. readmore.de mit einer Zusammenfassung.
Früher als Kael, the Invoker bekannt, heutzutage aber aus rechtlichen Gründen zu Garral, the Invoker umbenannt, ist einer der Gründe, wieso DotA so besonders im Action-RTS Genre ist. Denn dieser Held ist komplett anders als all seine Mitstreiter. In erster Linie fällt bei ihm auf, dass der Held drei passive Basisfähigkeiten hat: Quas, Wex und Exort. Diese erhöhen lediglich bestimmte Attribute des Helden. Sie geben jeweils mehr Leben, mehr Beweglichkeit oder mehr Schaden und können jeweils siebenmal verbessert werden.
Das Herzstück des Helden ist aber seine Fähigkeit Invoke. Er kann damit durch das Kombinieren von Quas, Wex und Exort jeweils zehn weitere verschiedene Fähigkeiten nutzen. Drückt man z.B. Quas, Quas, Wex und Invoke, so kann der Held unsichtbar werden. Mit Wex, Exort, Exort und Invoke wird dann ein Meteor beschworen, der viel Flächenschaden macht. Wichtig ist hierbei, dass nur die letzten drei gewählten Instanzen von Quas, Wex und Exort gezählt werden.
Der Schaden und die Reichweite der einzelnen Zauber werden zudem, abhängig von den Leveln der einzelnen drei Grundzauber, beeinflusst. So macht der Deafening Blast, bestehend aus der Kombination Quas, Wex und Exort, mehr Schaden bei höherem Exort Level. Weiterhin hat es mehr Reichweite bei höherem Wex Level und es betäubt länger bei höherem Quas Level. So bleibt dann zuletzt noch die Frage offen, wie man den Helden entsprechend skillen sollte, um den größten Nutzen aus diesem Helden zu ziehen?
In China hat sich theoretisch die stärkste aber auch die einfachste Spielweise herauskristallisiert, die mit dem Tornado (WWQ) und EMP (WWW) agiert. Dazu wird konkret Wex primär ausgebaut. Der Tornado hat dann eine enorme Reichweite, der weit entfernte Gegner für kurze Zeit betäuben und schädigen kann. Mit EMP kann man zudem noch, abhängig vom Wex, in einem großem Areal bis zu 400 Mana verbrennen, was besonders in Teamfights zu Gute kommt. Üblicherweise nutzt man zuerst EMP und dann den Tornado um die Gegner festzuhalten, damit sie sicher vom EMP getroffen werden.
Entsprechend des Könnens des Spielers, kann man aber auch andere wahnwitzige Skillbuilds spielen, die viel Erfolg haben können. Zum Helden gibt es im Verlauf der Meldung noch ein Video.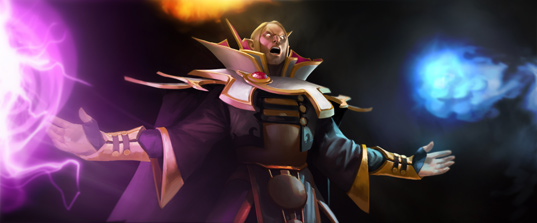 Garral, the Invoker
Neben dem neuem Helden und weiteren Bugfixes, hat VALVe nur noch die Socializing-Features aufgebessert. Man kann nun bei Freunden sehen, welche Helden sie am öftesten gespielt haben und wie viele Siege sie haben. Niederlagen werden aber nicht angezeigt. Dadurch will man mögliche Probleme mit Personen vermeiden, die zu sehr auf ihre Statistiken achten und somit das Spielgeschehen ruinieren. Zu guter Letzt kann auch Tiny erstmals sein Aghanim's benutzen. Er ist damit in der Lage, einen Baum auszureißen und bekommt durch diesen einen permanenten Flächenangriff.
https://www.youtube.com/embed/oCcsA4P3dUM
Kompletter Changelog

Gameplay
Enabled Invoker!
Bloodseeker: Fixed Rupture not hurting heroes when they blink.
Bounty Hunter: Fixed Track ignoring Linken's Sphere.
Morphling: Fixed Morph removing Curse of the Silent.
Puck: Fixed Ethereal Jaunt from triggering Last Word/Magic Stick.
Puck: Fixed Phase Shift autocasting if you were already stunned before.
Puck: Fixed being able to move in certain situations while auto-casting Phase Shift.
Silencer: Fixed being unable to steal Int from dying magic immune heroes.
Silencer: Fixed Last Word silencing invulnerable units.
Silencer: Fixed stealing intelligence from Reincarnating heroes.
Spiritbreaker: Fixed Charge of Darkness picking units that are invisible or in the fow when it tries to find a new target.
Spiritbreaker: Fixed Charge of Darkness ignoring Hex.
Spiritbreaker: Fixed Greater Bash working with illusions
Spiritbreaker: Fixed Greater Bash bonus damage working on Towers, Wards and Denies
Spiritbreaker: Fixed Charge of Darkness and Greater Bash going through Magic Immunity
Storm Spirit: Fixed Ball Lightning costing draining more mana if you cast it again while still in it.
Tiny: Ultimate Scepter upgrade is now enabled.
Tiny: Fixed Toss damaging allied units.
Fixed Dagon int bonus being off by 1.
Fixed Arcane Boots giving 300 mana instead of 250.
Fixed night vision radius being a little smaller than intended.
Standing right next to a tree no longer removes its vision obstruction.
Silencer: Fixed Global Silence silencing only heroes.
Enabled Silencer and Spirit Breaker in Captain's Mode.
Fixed Healing Ward and Windrunner auras' sticky durations to 2.5 seconds.
Fixed Dagon's incorrect intelligence bonus values.
Fixed Heaven's Halbred's disarm allowing attack-spells to be cast through it.
Fixed Orchid using the old values at the new price.
Fixed Pipe not costing any mana.
Fixed Flying Courier HP not being upgraded after the last update
User Interface
Added Steam avatars to the dashboard.
Added Dota Profile page to the main menu, showing your personal match history, commendations and most successful heroes.
Fixed a bug where your control could be lost if you were selecting a enchanted/converted unit. It now goes back to your hero.
Party area of miniprofile now uses Steam avatars.
Party area of miniprofile now shows rich presence for friends
Party area of miniprofile now shows "View Steam Profile" link for non-friends
Party chat channel automatically gets focus when you join a party
Added a '*' to channel tabs with pending messages
Fixed being able to sell back an item for full price if it was combined using an item that had an active ability.
Added spacebar to pause games during replays.
Fixed clicking on the minimap border and then dragging into the minimap resulting in the camera getting stuck to the cursor.
Chat channels now get deleted if the last member in the channel goes offline.
Fixed clicking on blank space in the UI sending move orders to invalid locations.
Default private lobby version is now Tournament Mode.
When player names draw they now draw with player color instead of white.
Added leave party button in mini profile.
Now when attempting to cast-attack a target while hard disarmed, the error message "Can't Attack" will appear when you reach attack range of the target.
Holding now spotlights your hero.
Illusions now copy the number of charges in source unit's inventory items.
Fixed Courier purchase having no cooldown (now 7 seconds, primarily for accidental purchases early on).
Bots
Fixed bots repurchasing a courier when their courier died.
Fixed a case where bots would buy duplicate flying courier recipes.
Improved Earthshaker bot's Echoslam logic –
he'll now search for optimal places to Blink + Echoslam.
Made bots better about detecting attacking units without cheating and detecting other units' right-clicks.
Fixed Windrunner's buildout which broke due to the new Orchid recipe build. Also added force staff to her build.
Medien